Laramie Film Society
film.laramie.wy.us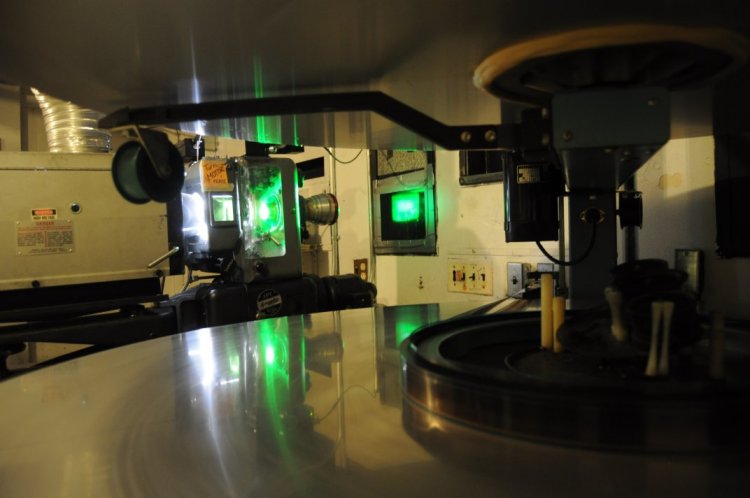 Promoting Cinema in Laramie, Wyoming
LFS film poll
The 50th Anniversary Movie Poll is back again for the third year. When movies reach their 50th anniversary, the time is ripe for an evaluation of their merits. With an eye on creating discussion of classic films, the Laramie Film Society annually polls its members on the greatest films celebrating their golden anniversary.
Each year in the Fall, the "winner" of the poll is shown on the big screen at the Gryphon Theatre. In 2014, we showed Dr. Strangelove (1964) and last year we screened Dr. Zhivago (1965).
This year, the LFS will examine the films of 1966, a year that saw such now-classic films as: Alfie, Blow-Up, Born Free, Fahrenheit 451, The Battle of Algiers, El Dorado, The Russians Are Coming the Russians Are Coming, The Endless Summer, Fantastic Voyage, The Fortune Cookie, Grand Prix, Georgy Girl, The Good, the Bad, and the Ugly, A Man and A Woman, A Man For All Seasons, Khartoum, A Funny Thing Happened on the Way to the Forum, The Professionals, Seconds, The Sand Pebbles, The Trouble With Angels, How to Steal a Million, The Ghost and Mr. Chicken, The Blue Max, The Chase, and Who's Afraid of Virginia Woolf?.
Criteria to consider: entertainment value, influence on later movies, endurance in popular culture, artistic cinema technique, and re-watchability. Visit the LFS blog, for the rules (in the left hand column of the blog) and for a list of films that can be borrowed from UW's Coe Library (which is currently cross-promoting the poll) and the Albany County Public Library, as well as those for rent at Hastings, click on the link to the LFS blog: https://lfsmoviepoll.wordpress.com/
The free foreign film series at the county library
The Sundries of the World Film Series opens Sunday, January 10, and runs through the end of May with a series of 20 foreign language films at the Albany County Library. This series of films includes a number of award winning films.
All films are shown at the Albany County Library on Sunday evenings, starting at 7 p.m. Admission is free for all these films. Free popcorn, pop and candy will be served at all these films. A film schedule with some synopses with ratings (based on the four star system) and links to reviews is below.
This series is sponsored by the Albany County Public Library and co-sponsored by the Laramie Film Society. Additional sponsors of the Laramie Film Society, supporting all of its programs, include the The Alibi Pub, Mizu Sushi restaurant, and the Turtle Rock Coffee and Cafe, all Laramie businesses.
January 10 — Wild Tales (Relatos salvajes, 2014, Argentina, 122 min)
January 17 — The Tiger and the Snow (La Tigre e la neve, Italy, 2005)
Following a plot similar to his award-winning film "Life is Beautiful," Roberto Begnini, directs and stars in this dramedy about a poet who travels war-torn Iraq on a quest to find and save the woman he loves. Not rated, 115 minutes.
January 24 — Waltz With Bashir (Vals Im Bashir, 2008, Israel)

Ari Folman's animated, quasi-documentary follows the filmmaker's emotional attempt to recollect his part in the 1982 massacre of more than 3,000 Palestinian refugees in Beirut by Christian militia. Winner of numerous international film awards. Rated R, running time, 90 minutes.
January 31 — Reconstruction (2003, Denmark)

Set in Copenhagen during a 24-hour period, August works on his novel while his wife has a one-night stand with a photographer, Alex. The next morning, Alex is cast adrift as his friends, family, and girlfriend Simone all treat him like a stranger. Winner of a dozen international film awards. Rated PG-13, running time 90 minutes. Languages, Danish and Swedish with English subtitles.
February 7 — Black Cat, White Cat (1998, Yugoslavia)

In this screwball comedy, a Gypsy agrees to marry the sister of a gangster to whom he he owes money in order to get out from under the debt. Neither he nor his new bride are enthusiastic about this arrangement. In Serbian, Romany and Bulgarian with subtitles. Rated R, running time 135 minutes.
February 14 — Love Me if you Dare (Jeux d'Enfants - 2003)

This French film follows the exploits of two young would-be lovers as they go from childhood to adulthood with themselves as the greatest hurdle to their own happiness. The average critical rating of this film is two stars out of four, but the average audience rating is three stars, or higher. Winner of five international film awards. Language, French with English Subtitles. Rated R, running time 93 minutes.
February 21 — Incendies (Canada - 2010)

Twins make a life-altering discovery following the death of their mother. Learning that their absentee father is still very much alive and they also have a brother they have never met, they travel to the Middle East on a mission to uncover the truth about their past. Winner of 13 international film awards. Languages, French, Arabic and English, with English subtitles. Rated R, running time 130 minutes.
February 28 — Footnote (Israel - 2011)

An anti-establishment professor and his approval-seeking son enter into a heated competition against one another when their roles are suddenly reversed. Rising up through the ranks, Uriel always relied on recognition to fuel his sense of self-worth. His father always shunned the spotlight, but when he learns he is about to receive the highest honor rewarded in his field, the older man's vanity is revealed for all to see. Rated R, running time 107 minutes. Language, Hebrew with English subtitles.
March 6 — Broken Embraces (Los abrazos rotos - Spain)

In this 2009 film, a blind writer, formerly a film director, sets out to confront emotional wounds from his past. Directed by Pedro Almodóvar ("All About My Mother") and starring Penelope Cruz ("Vicky Cristina Barcelona") this film won eight international film awards. Rated R, running time 128 minutes. Language, Spanish with English subtitles.
March 13 — Tsotsi (South Africa - 2005)

A violent criminal teenager develops an unexpected capacity to care for the child of a woman he attacked. Winner of 17 international film awards, including the Academy Award for best foreign film. Rated R, running time 94 minutes. Languages, Zulu, Xhosa, Afrikaans and English with English subtitles.
March 20 — Lust Caution (Se, jie - China)

A tale of political intrigue, sexual liaisons, misplaced passions, missed opportunities and wasted lives set in Japanese-occupied Shanghai in the late 1930s and early '40s. Winner of over 20 international film awards. Rated NC-17 (for graphic sex scenes) running time, 157 minutes. Languages, Mandarin, Japanese, English, Hindi, Shanghainese and Cantonese with English subtitles.
April 3 — Wondrous Boccaccio (Meraviglioso Boccaccio - Italy)

In this 2015 Taviani Brothers film version of Boccaccio's The Decameron, 10 young people flee the plague in 13th Century Forence to live in the country. Each of them tells a story to pass the time. The stories are all different, except that each story has something to do with love. This film was nominated for six film awards and won one. Language, Italian with English subtitles. Running time, 120 minutes.
April 3 — The Broken Circle Breakdown (2012 Belgium)

A Belgian farmer and his lovely tattooed wife perform in the very best bluegrass band in Belgium. With a plot like this, you'd think it would be a musical comedy, but it is not. The bluegrass performers face a grim test of love and faith when their daughter becomes seriously ill. In Flemish, English and Dutch with subtitles. This film is not rated. Running time, 1 hour, 51 minutes.
April 17 — The Man Without a Past (Mies vailla menneisyyttä - Finland)

In this 2002 film directed by Aki Kaurismäki, a savagely beaten man loses his memory and goes on a strange odyssey, including a bank robbery, before rediscovering his past life. Winner of 20 international film awards. Rated PG-13, running time, 97 minutes. Language, Finnish, with English subtitles.
April 24 — Leviathan (2014 - Russia)

In a Russian coastal town, Kolya is forced to fight the corrupt mayor when he is told that his house will be demolished. He recruits a lawyer friend to help, but the man's arrival brings further misfortune for Kolya and his family. Winner of the Golden Globe award for best foreign language film and numerous other international film awards, Rated R, running time 141 minutes. Language, Russian with English subtitles.
May 1 — Theeb (United Arab Emirates - 2014)

In the Ottoman province of Hijaz during World War I, a young Bedouin boy experiences a greatly hastened coming-of-age as he embarks on a perilous desert journey to guide a British officer to his secret destination. Winner of 10 international film awards. Language, Arabic, with English subtitles. Not rated, running time 100 minutes.
May 8 — Italian for Beginners (Italiensk for begyndere - Denmark)

In this year 2000 Danish release, several lonely hearts in a semi-provincial suburb of a town in Denmark use a beginner's course in Italian as a platform to find romance. Winner of 20 international film awards. Languages, Danish, Italian and English with English subtitles. Rated R, 118 minutes.
May 15 — Paradise Now (2005 - Palestine)

Two childhood friends are recruited for a suicide bombing in Tel Aviv. Winner of the Golden Globe award for best foreign language film, plus 12 other international film awards. Languages, Arabic and English. Rated PG-13, running time 90 minutes.
May 22 — Rust and Bone (De rouille et d'os - France)

In this 2012 film, a struggling single father helps a beautiful whale trainer recover her will to live following a terrible accident that leaves her confined to a wheelchair. Winner of 32 international film awards. Languages, French and English with English subtitles. Rated R, running time two hours.
May 29 — Cinema Paradiso (Nuovo Cinema Paradiso - Italy)

This 1988 film, set in in postwar Italy, provides a nostalgic look at the effect films have on a young boy as he comes of age in and around a village movie theater. This beloved film won both the Academy award and Golden Globe award for best foreign film, along with numerous other awards. Language, Italian, with English subtitles. Rated PG, running time 155 minutes.
To be notified by e-mail of upcoming Laramie Film Society Activities, including film series schedules, subscribe to the Laramie Film Society's e-mail announcement list at https://groups.google.com/forum/#!forum/laramie-film-society-announcements.
Wyo Theatre selling memberships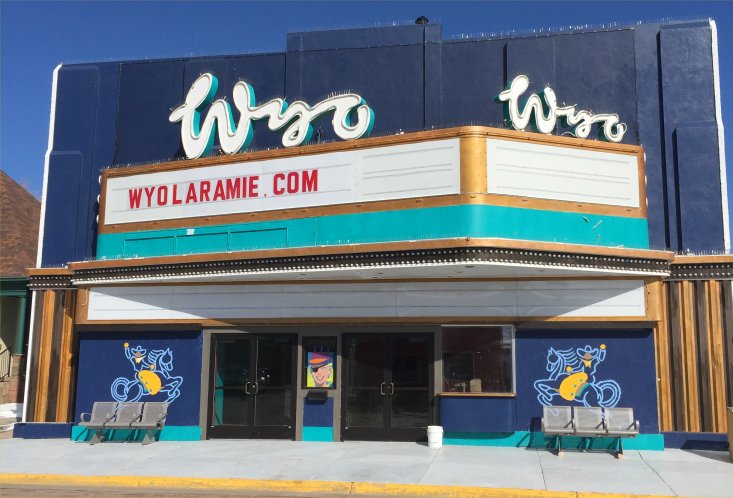 Laramie's historic Wyo Theatre, 309 S. Fifth St. in Laramie, may be going forward as a cinema. The theater is offering affordable memberships ($10 individual/ $15 family) available now with the goal of creating a membership of 100 by fall of this year. Memberships bought this year are good for 2017 as well.
Members will have the following benefits: $3 admission, with a free small popcorn; members can bring one "guest" per individual member at $5 per ticket; $1 refills on combined soda and popcorn; and no commercials before the feature presentation.
Members will receive an advance schedule of all upcoming films. The Wyo Theatre is a 90-year-old landmark in Laramie and the Laramie Film Society looks forward to its grand re-opening. The Wyo Theatre's website is: http://www.wyolaramie.com/ and their membership form can be found here: http://www.wyolaramie.com/membership316.pdf
LFS shows summer films outdoors
The Laramie Film Society presented "Easy Street," "The Goat" and "An Eastern Westerner" during Jubilee Days. The films were shown on July 10 during the Jubilee Days Street Dance on the north wall of Ken's Music Box near the intersection of Second and Grand. Thanks to the Music Box building owner for letting LFS use its wall. Thanks to the Cross Country Connection for letting us use electricity so LFS could plug in its projector.
Thanks to LFS President Gary Rutkowski and others who helped us get set up and help carry everything away afterwards. Also thanks to the Laramie Policemen who let me park my pickup nearby so I didn't have to haul the projection equipment so far. We had excellent weather this year, and as usual, got lots of compliments from passersby.
"Easy Street," released in 1917 is one of Charlie Chaplin's early comedy classics. This 19-minute Mutual studio silent film pits the diminutive Chaplin, who plays a policeman, against a huge street thug played by Eric Campbell. Chaplin also wrote and directed this film. Chaplin creates humor from the unlikely subjects of poverty and violence in some mean city streets.
"The Goat" is a classic 1921 comedy. It is about a man (played by the legendary Buster Keaton) who is mistakenly identified as a murderer in newspapers and posters. He desperately dodges the police, and a variety of other pursuers, displaying incredible acrobatic skills and ingenuity. This film was selected by the Motion Picture Academy of Arts and Sciences as one of Keaton's two best short films (the other was "The Boat"). Keaton, a legendary movie actor, writer and director, also co-directed and scripted this film with Malcolm St. Clair. Keaton (1895-1966) was one of the true comic geniuses of film, with a brilliant career that spanned decades. His acrobatic physical style of comedy is similar to that of Charlie Chaplain, Harold Lloyd and Jackie Chan.
"The Goat" is the first film purchased by the Laramie Film Society. "Easy Street" was purchased in the summer of 2004. In the past we have rented all of the films we have shown. By shopping around on the Internet, LFS found a source of 16 millimeter films for a reasonable price. We can buy a film for about the same amount of money it costs to rent one.
"An Eastern Westerner" is a 1920 film starring Harold Lloyd, one of the biggest stars of silent films. The print we bought in 2010 is essentially the second half of this 20-minute film (which is O.K., because it is the funnier half and we got it at half price). The first half of the film takes place in a large city, probably New York. The half of the movie we have takes place in a town in the west populated by bad guys and crooked card sharks. There is also a group of hooded riders who look a lot like the KKK, menacing people in the town. The nimble Lloyd outsmarts the bad guys and gets the girl, of course.
Laramie Film Society events are sponsored by The Alibi Pub, Mizu Sushi restaurant, and the Turtle Rock Coffee and Cafe, all Laramie businesses.
Report on the 501 (c)(3) status of LFS
The IRS has determined that the Laramie Film Society is exempt from federal income tax as described in section 501 (c)(3) of the tax code. The LFS received the determination letter in mid-February.
This is a final determination. Since we have a reasonable assurance that our application was filed before the deadline, all donations to LFS dating back to September 5, 2000 should be eligible for deduction from federal income taxes. Donations are only allowable as deductions to the extent that the donations are gifts. LFS memberships and LFS t-shirts, and LFS movie ticket sales are not really eligible because people receive consideration for those purchases.
The complete IRS determination letter can be accessed by clicking on this link. This determination letter has been scanned into text, so there may be some typos. E-mail me (Robert Roten) so I can fix any typos you might spot. My e-mail address can be found on my web page Laramie Movie Scope. A copy of IRS Publication 1771 which outlines the rules for charitable donations was included with the decision letter. This short, two page document is well worth reading if you plan to donate anything to any non-profit organization. I was unable to scan this document into a text file, but I found a copy of it on the Internet (it is not available at the IRS site for some reason). A copy of Publication 1771 is included with the copy of the decision letter linked above. To read it, click on this link.
The 501 (c)(3) application for recognition of exemption (forms 1023, 8718, and 872-C) was delivered to the IRS office in Kentucky at 9 a.m. December 28, 2001, according to the UPS Internet delivery tracking system.
The delivery was three days before the deadline (the end of the 15th month from the date of incorporation). That means donations to LFS back to the date of incorporation (Sept. 5, 2000) should be tax-deductible. I have one copy of the application and I have made two others so that LFS Secretary Lynn Hamblin and Treasurer Casey Woods can keep them on file. I will also keep a copy on file. By law, a copy of the application must be kept on file for public inspection for three years.
The application uses form 872-C to "consent fixing period of limitation upon assessment of tax under section 4890 of the Internal Revenue Code." The reason for including this form in the application is that it is required when seeking an "advance ruling" rather than a "definitive ruling" on our tax- exempt status. Rather than making an advance ruling, however, the IRS chose to make a final ruling, so that form was evidently not needed. Who knew?
More About the Group
Join, Donate to LFS
You can join LFS by sending $15 to the Laramie Film Society, along with a self-addressed stamped envelope to: The Laramie Film Society, 3019 Pope Springs Road, Laramie, WY, 82070. Donations to LFS can be sent to the same address. Donations are tax deductible.
Join the LFS E-Mail Lists
The best way to keep up with the group's activities is to join the LFS e-mail lists. To do this, visit https://groups.google.com/forum/#!forum/laramie-film-society-announcements and sign up. This is an announcement list only. Notices will include upcoming films, polls, meetings and other LFS announcements. There is no discussion among list participants. We expect an average of less than one announcement per week. You can also view all of the messages that have already been posted to the list at this location.

We also have a discussion list. You can subscribe to the discussion list by visiting this website http://groups.google.com/group/laramie-film-society-discussions?hl=en. As with most Google features, these sites work best when you are using a Google Chrome browser. If all else fails, e-mail Robert Roten (address at bottom of page) and ask him to send you invitations to either list.
Our Mailing Address
Laramie Film Society
3019 Pope Springs Road
Laramie, WY 82070
Web space for this site provided by LARIAT, Laramie's Community Internet service provider.
Photo of movie projector by Connor Mullen. Web page design by Brett Glass and Robert Roten (E-mail at
)