Laramie Film Society
film.laramie.wy.us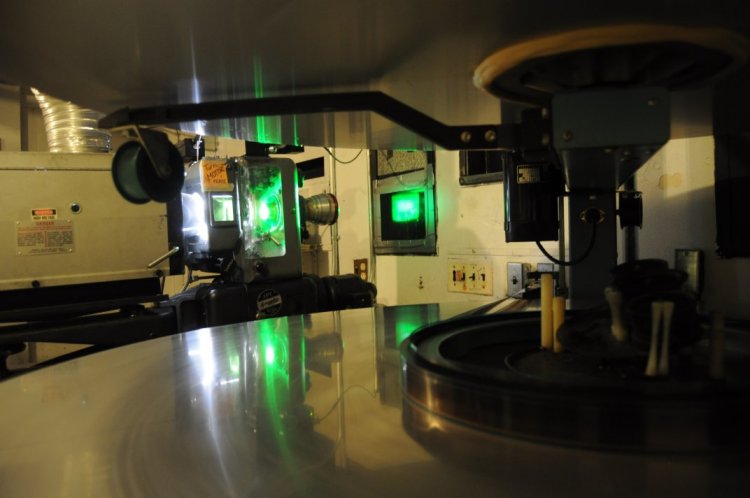 Promoting Cinema in Laramie, Wyoming
Outdoor movies at the Alibi Pub
The Laramie Film Society, in cooperation with one of its sponsors, The Alibi Pub Wood Fire Pizzaria and Bakery, 404 S 4th St., will show three outdoor movies this summer on two dates, July 29 at 9 p.m. and August 12 at 8:30 p.m. at the outdoor stage at the Alibi Pub's patio area. There will be no admission or cover charges for any of these films.
The July 29 movie will be the cult classic zombie movie The Night of the Living Dead (1968) directed by George Romero. This film kick-started the modern zombie film genre. It has been selected by the Library of Congress for preservation in the National Film Registry as a culturally significant film. Please note: Only those 21 and older will be admitted to this outdoor film showing due to liquor license regulations.
On August 12, two Laurel and Hardy films will be shown, The Flying Deuces (1939) and Utopia (1951) the last film starring the comedy duo. Stan Laurel and Oliver Hardy both began their film careers separately more than 100 years ago in the silent era.
Laurel and Hardy's first film together was in 1921, but it wasn't until both men were separately signed by Hal Roach Studios that they became one of the top comedy teams in movies. The two actors made 107 films together. They worked 20 years with Hal Roach, and later, for 20th Century Fox and Warner Brothers studios, many of these films were highly profitable. Stan Laurel also helped to write many of the screenplays for their films.
The Flying Deuces was one of the last Laurel and Hardy films produced by Hal Roach Studios. In it, Hardy, his heart broken, decides to join the French Foreign Legion. He drags Laurel along with him to become a Legionnaire, with disastrous results.
Utopia (original title, Atoll K) was a French-Italian co-production plagued by many problems, including serious health problems for both Laurel and Hardy. This marked the end of the duo's long film career. The story has Laurel and Hardy traveling to a remote island to claim a property inheritance.
In 2005, Laurel and Hardy were voted one of the 10 top comedy acts of all time in a British poll of fellow comedians. There are three Laurel and Hardy museums. One is in Laurel's birthplace in England, another is in Germany, and the third is in Hardy's birthplace in Georgia. There are over 150 chapters worldwide of the Laurel and Hardy appreciation society, The Sons of the Desert, named after a Laurel and Hardy film of the same name. Please note: Only those 21 and older will be admitted to this outdoor film showing due to liquor license regulations.
To be notified by e-mail of upcoming Laramie Film Society Activities, including film series schedules, subscribe to the Laramie Film Society's e-mail announcement list at https://groups.google.com/forum/#!forum/laramie-film-society-announcements.
LFS shows other summer films
The Laramie Film Society presented three historic silent films, "Easy Street," "The Goat" and "An Eastern Westerner" outdoors downtown on Friday, July 14, 9 p.m. to 11 p.m. at Second Street and Grand Avenue during Jubilee Days. These films were not shown in 2016 for the first time in 16 years, due to an absence of volunteers. We also showed a Jubilee Days Western, "Shane" on Sunday, July 16 at the Albany County Public Library (more on that below).
We had a volunteer to help with the outdoor movies year, thanks to Phil White. Special thanks to the people at the Papa Johns Pizza tent for letting us use their gas powered generator to power our 16mm projectors.
We also showed a Jubilee Days Western Movie, "Shane," (1953) at the Albany County Library on Sunday, July 16 at 7 p.m. The library co-sponsored this event and let us use their large meeting room.
Filmed in Wyoming, Shane is on a number of great films lists and is considered a top 10 film in the Western genre by many. It was listed number 45 in AFI's 100 Years, 100 Movies list, and ranked number three in AFI's Western genre voting. In 1993, Shane was selected for preservation in the United States National Film Registry by the Library of Congress as being "culturally, historically or aesthetically significant."
"Easy Street," released in 1917 is one of Charlie Chaplin's early comedy classics. This 19-minute Mutual studio silent film pits the diminutive Chaplin, who plays a policeman, against a huge street thug played by Eric Campbell. Chaplin also wrote and directed this film. Chaplin creates humor from the unlikely subjects of poverty and violence in some mean city streets.
"The Goat" is a classic 1921 comedy. It is about a man (played by the legendary Buster Keaton) who is mistakenly identified as a murderer in newspapers and posters. He desperately dodges the police, and a variety of other pursuers, displaying incredible acrobatic skills and ingenuity. This film was selected by the Motion Picture Academy of Arts and Sciences as one of Keaton's two best short films (the other was "The Boat"). Keaton, a legendary movie actor, writer and director, also co-directed and scripted this film with Malcolm St. Clair. Keaton (1895-1966) was one of the true comic geniuses of film, with a brilliant career that spanned decades. His acrobatic physical style of comedy is similar to that of Charlie Chaplain, Harold Lloyd and Jackie Chan.
"The Goat" is the first film purchased by the Laramie Film Society. "Easy Street" was purchased in the summer of 2004. Prior to that we rented all of the films we have shown. By shopping around on the Internet, LFS found a source of 16 millimeter films for a reasonable price. We found we could buy a 16mm print for about the same amount of money it cost to rent one.
"An Eastern Westerner" is a 1920 film starring Harold Lloyd, one of the biggest stars of silent films. The print we bought in 2010 is essentially the second half of this 20-minute film (which is O.K., because it is the funnier half and we got it at half price). The first half of the film takes place in a large city, probably New York. The half of the movie we have takes place in a town in the west populated by bad guys and crooked card sharks. There is also a group of hooded riders who look a lot like the KKK, menacing people in the town. The nimble Lloyd outsmarts the bad guys and gets the girl, of course.
Thanks to the cooperation of Music Box building owner for letting LFS use its north wall as a screen upon which to project a moving picture all those years for this annual event. Thanks to the Cross Country Connection for agreeing to letting us use electricity from the store for the projector all those years, too.
All Laramie Film Society events are sponsored by The Alibi Pub Wood Fire Pizzaria and Bakery, Mizu Sushi restaurant and The Pedal House.
Wyo Theatre news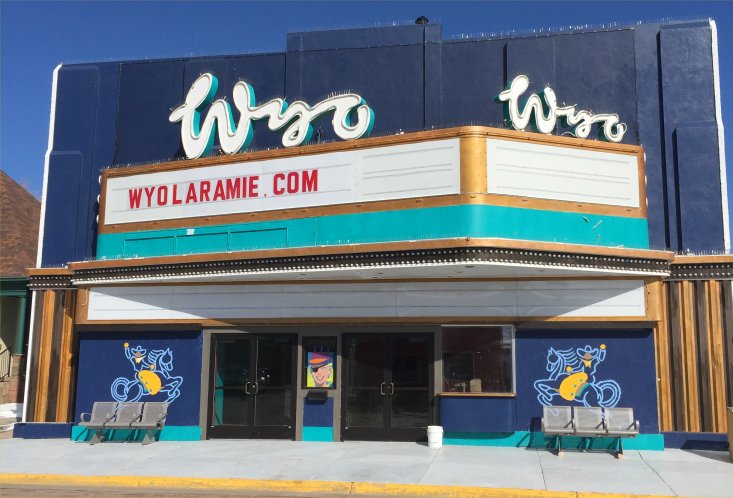 Laramie's historic Wyo Theatre, 309 S. Fifth St. in Laramie, is closed indefinitely. For more information, visit the Wyo Theatre's website: http://www.wyolaramie.com/.
Report on the 501 (c)(3) status of LFS
The IRS has determined that the Laramie Film Society is exempt from federal income tax as described in section 501 (c)(3) of the tax code. The LFS received the determination letter in 2002. For more about this, including the IRS determination letter and IRS rules related to tax free donations to the Laramie Film Society, click on this link to see these documents.
More About the Group
Join, Donate to LFS
You can join LFS by sending $15 to the Laramie Film Society, along with a self-addressed stamped envelope to: The Laramie Film Society, 3019 Pope Springs Road, Laramie, WY, 82070. Donations to LFS can be sent to the same address. Donations are tax deductible. IRS rules on tax deductible donations can be found here.
Join the LFS E-Mail Lists
The best way to keep up with the group's activities is to join the LFS e-mail lists. To do this, visit https://groups.google.com/forum/#!forum/laramie-film-society-announcements and sign up. This is an announcement list only. Notices will include upcoming films, polls, meetings and other LFS announcements. There is no discussion among list participants. We expect an average of less than one announcement per week. You can also view all of the messages that have already been posted to the list at this location.

We also have a discussion list. You can subscribe to the discussion list by visiting this website http://groups.google.com/group/laramie-film-society-discussions?hl=en. As with most Google features, these sites work best when you are using a Google Chrome browser. If all else fails, e-mail Robert Roten (address at bottom of page) and ask him to send you invitations to either list.
Our Mailing Address
Laramie Film Society
3019 Pope Springs Road
Laramie, WY 82070
Web space for this site provided by LARIAT, Laramie's Community Internet service provider.
Photo of movie projector by Connor Mullen.
Web page design by Brett Glass and Robert Roten (E-mail at Robert's last name, dot lariat.net)