Laramie Film Society
film.laramie.wy.us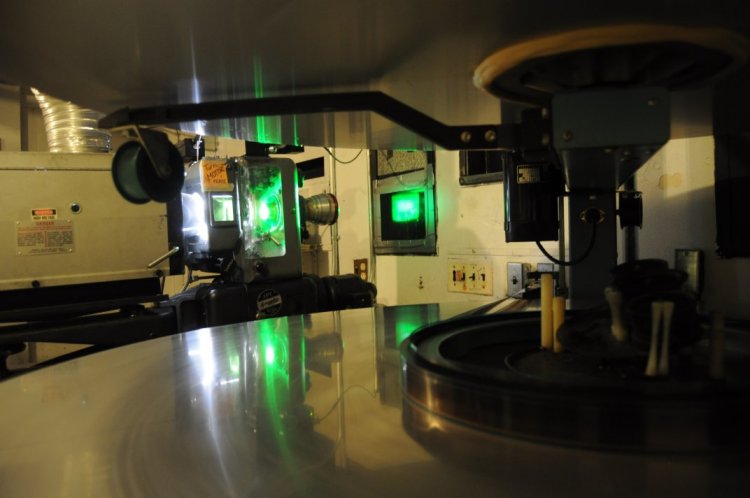 Promoting Cinema in Laramie, Wyoming
The 10th Annual Summer Film Series at the County Library
The 10th Annual Free Summer Film Series begins Sunday, June 5 with the award-winning film Paris, Texas. It continues every Sunday evening through the end of August with a series of 13 films, most of them not seen before in Laramie theaters. This series of films is presented on a big screen in high definition with surround sound at the Albany County Public Library, Eighth and Grand.
Films in the series include (in order) Paris, Texas – Suffragette – The Salt of the Earth (2014) – He Named Me Malala – The Good, the Bad and The Ugly – Ziggy Stardust and the Spiders from Mars – Mistress America – Me and Earl and the Dying Girl – Hail, Caesar! – Anomalisa – Cesar Chavez – Chi-Raq – Midnight Special (dates for film showings and synopses are below).
All films are shown at the library on Sunday evenings, starting at 7 p.m. Admission is free for all these films. Free snacks are also available at all these films. A film schedule with synopses with ratings (based on the four star system, four stars is an A, three stars is a B, 3.5 stars is a B+ and 2.5 stars is a C+) and links to reviews for every series film is below.
This series is sponsored by the Albany County Public Library and the Laramie Film Society. Additional sponsors of the Laramie Film Society, supporting all of its programs, include the Mizu Sushi restaurant and The Alibi Pub.
June 5 — Paris, Texas (1984)

In this classic Wim Wenders film, a confused man, who vanished from society four years earlier, is found wandering in the Texas desert. He is retrieved by his brother, who drives him back to California and tries to find out what happened, and to help him put the shattered pieces of his life back together. Winner of 15 international film awards. Rated R, running time 2 hours, 27 minutes.
June 12 — Suffragette (2015)

Over 100 years ago in England, an ordinary woman sacrifices everything to join other suffragettes fighting a war against their own government for the right to vote. The government fights back against what it calls a dangerous, radical movement. Winner of 14 international film awards. Rated PG-13, running time one hour, 46 minutes.
June 19 — The Salt of the Earth (2014)

A Wim Wenders documentary film about the life and work of photographer Sebastião Salgado, who spent forty years documenting deprived societies in hidden corners of the world. Winner of 10 international film awards. Rated PG-13, running time, one hour, 50 minutes.
June 26 — He Named Me Malala (2015)

This inspirational documentary about Nobel Peace Prize winner Malala Yousafzai (the youngest winner ever at age 17) outlines her journey from being an outspoken young girl to her near-martyrdom in the cause of equal rights, culminating in her status as a worldwide leader for women's rights. Winner of four international film awards. Rated PG-13, running time one hour and 28 minutes.
July 3 — The Good, the Bad and the Ugly (Il Buono, il brutto, il cattivo — 1966)

Clint Eastwood, Lee Van Cleef and Eli Wallach star in this award-winning Italian-made "spaghetti Western" directed by Sergio Leone. The haunting musical score is by the renowned Ennio Morricone. Called the greatest western ever made, this film is listed in Time's "100 Greatest movies of the last century." Director Quentin Tarantino calls it "the best-directed film of all time" and "the greatest achievement in the history of cinema." Not rated, running time two hours, 41 minutes.
July 10 — Ziggy Stardust and the Spiders from Mars (1973)

A 1973 David Bowie concert in London is the subject of this documentary by famed director D.A. Pennebaker ("Don't Look Back" and "Monterey Pop"). Fans mistakenly believed Bowie would retire after this concert. This film aired on TV and was seen on the midnight theater circuit before a wide release to mainstream theaters in 1983. Rated PG, running time, one hour 31 minutes.
July 17 — Mistress America (2015)

This light, airy comedy about flaky, compelling drama queens is reminiscent of "Desperately Seeking Susan." or a similar film, "Frances Ha." The film is written by Noah Baumbach ("Frances Ha,") and Greta Gerwig (Baumbach directs and Gerwig stars). Nominated for 11 film awards and won three. Rated R, running time one hour and 24 minutes.
July 24 — Me and Earl and the Dying Girl (2015)

A reclusive high-school senior who spends most of his time filming funny, low-budget movie spoofs with his only friend, Earl, is forced to befriend a girl from school stricken with leukemia, and the two develop an unlikely friendship. Winner of 15 international film awards. Rated PG-13, running time, one hour and 45 minutes.
July 31 — Hail, Caesar! (2016)

Set in Hollywood in the 1950s, this Coen brothers screwball satire makes fun of just about everything, including movies, directors, studio executives, actors, audiences, communism, capitalism, conventional morality and religion. At the same time, it is entertaining, with musical numbers like Esther Williams and Gene Kelly used to do. Starring Josh Brolin, George Clooney, Ralph Fiennes, Scarlett Johansson and Tilda Swinton. Rated R, running time 128 minutes.
August 7 — Anomalisa (2015)

This animated film tells a profoundly sad tale of emptiness, loneliness, longing and despair. A man on a business trip meets and old love, has a one night stand with another woman, then goes home to his wife and child after a terrible nightmare, only to find his waking existence is just as bad as his nightmare. Winner of 19 international film awards. Rated R, running time 90 minutes.
August 14 — Cesar Chavez (2014)

This biographical drama follows civil-rights activist Cesar Chavez as he attempts to balance his fight against social injustice with his duties as a husband and father. Starring Michael Peņa, John Malkovich, America Ferrera and Rosario Dawson. Winner of five film awards. Rated PG-13 running time, one hour and 42 minutes.
August 21 — Chi-Raq (2015)

Spike Lee's modern retelling of the ancient play of Lysistrata (411 B.C.) has women staging a sexual strike to stop deadly violence in Chicago. It is a unique film. It's got old roots, rhyming dialog, satire, soul, funk, sorrow, anger and outrage over the loss of black lives that don't matter to American society. This film won five film awards. Rated R, running time, 127 minutes.
August 28 — Midnight Special (2016)

In this cryptic sci-fi adventure a man rescues his son from a religious cult, whose members worship the boy for his supernatural powers. Along with a state trooper, the pair go on a journey to find safety from those who want to capture the boy. Rated PG-13, running time, 111 minutes.
To be notified by e-mail of upcoming Laramie Film Society Activities, including film series schedules, subscribe to the Laramie Film Society's e-mail announcement list at https://groups.google.com/forum/#!forum/laramie-film-society-announcements.
LFS film poll
The 50th Anniversary Movie Poll is back again for a third year.
Each year in the Fall, the "winner" of the poll is shown. In 2014, we showed Dr. Strangelove (1964) and last year we screened Dr. Zhivago (1965).
This year, the winner of the poll was Who's Afraid of Virginia Wolf?, starring Richard Burton and Elizabeth Taylor. Other films from that year included: Alfie, Blow-Up, Born Free, Fahrenheit 451, The Battle of Algiers, El Dorado, The Russians Are Coming the Russians Are Coming, The Endless Summer, Fantastic Voyage, The Fortune Cookie, Grand Prix, Georgy Girl, The Good, the Bad, and the Ugly, A Man and A Woman, A Man For All Seasons, Khartoum, A Funny Thing Happened on the Way to the Forum, The Professionals, Seconds, The Sand Pebbles, The Trouble With Angels, How to Steal a Million, The Ghost and Mr. Chicken, The Blue Max and The Chase.
Criteria to considered: entertainment value, influence on later movies, endurance in popular culture, artistic cinema technique, and re-watchability. Visit the LFS blog, for a list of films that can be borrowed from UW's Coe Library and from the Albany County Public Library, as well as those for rent at Hastings, click on the link to the LFS blog: https://lfsmoviepoll.wordpress.com/
Wyo Theatre news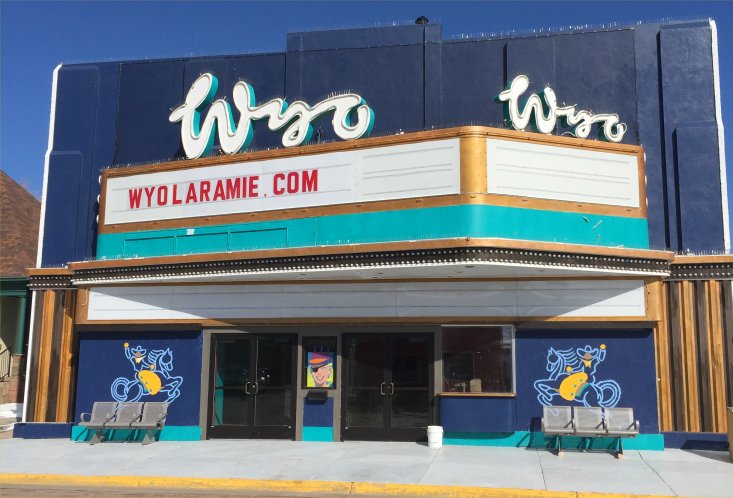 Laramie's historic Wyo Theatre, 309 S. Fifth St. in Laramie, is still closed, but there may be some films shown there in the future. The membership plan apparently fell short of the goal of 100 memberships. For more information, visit the Wyo Theatre's website: http://www.wyolaramie.com/.
LFS shows summer films outdoors
The Laramie Film Society presented "Easy Street," "The Goat" and "An Eastern Westerner" during Jubilee Days last year. These films were not shown this year for the first time in 16 years, due to an absence of volunteers to help with it. Thanks to the cooperation of Music Box building owner for letting LFS use its wall. Thanks to the Cross Country Connection for agreeing to letting us use electricity for the projector.
"Easy Street," released in 1917 is one of Charlie Chaplin's early comedy classics. This 19-minute Mutual studio silent film pits the diminutive Chaplin, who plays a policeman, against a huge street thug played by Eric Campbell. Chaplin also wrote and directed this film. Chaplin creates humor from the unlikely subjects of poverty and violence in some mean city streets.
"The Goat" is a classic 1921 comedy. It is about a man (played by the legendary Buster Keaton) who is mistakenly identified as a murderer in newspapers and posters. He desperately dodges the police, and a variety of other pursuers, displaying incredible acrobatic skills and ingenuity. This film was selected by the Motion Picture Academy of Arts and Sciences as one of Keaton's two best short films (the other was "The Boat"). Keaton, a legendary movie actor, writer and director, also co-directed and scripted this film with Malcolm St. Clair. Keaton (1895-1966) was one of the true comic geniuses of film, with a brilliant career that spanned decades. His acrobatic physical style of comedy is similar to that of Charlie Chaplain, Harold Lloyd and Jackie Chan.
"The Goat" is the first film purchased by the Laramie Film Society. "Easy Street" was purchased in the summer of 2004. In the past we have rented all of the films we have shown. By shopping around on the Internet, LFS found a source of 16 millimeter films for a reasonable price. We can buy a film for about the same amount of money it costs to rent one.
"An Eastern Westerner" is a 1920 film starring Harold Lloyd, one of the biggest stars of silent films. The print we bought in 2010 is essentially the second half of this 20-minute film (which is O.K., because it is the funnier half and we got it at half price). The first half of the film takes place in a large city, probably New York. The half of the movie we have takes place in a town in the west populated by bad guys and crooked card sharks. There is also a group of hooded riders who look a lot like the KKK, menacing people in the town. The nimble Lloyd outsmarts the bad guys and gets the girl, of course.
Laramie Film Society events are sponsored by The Alibi Pub and Mizu Sushi restaurant.
Report on the 501 (c)(3) status of LFS
The IRS has determined that the Laramie Film Society is exempt from federal income tax as described in section 501 (c)(3) of the tax code. The LFS received the determination letter in mid-February.
This is a final determination. Since we have a reasonable assurance that our application was filed before the deadline, all donations to LFS dating back to September 5, 2000 should be eligible for deduction from federal income taxes. Donations are only allowable as deductions to the extent that the donations are gifts. LFS memberships and LFS t-shirts, and LFS movie ticket sales are not really eligible because people receive consideration for those purchases.
The complete IRS determination letter can be accessed by clicking on this link. This determination letter has been scanned into text, so there may be some typos. E-mail me (Robert Roten) so I can fix any typos you might spot. My e-mail address can be found on my web page Laramie Movie Scope. A copy of IRS Publication 1771 which outlines the rules for charitable donations was included with the decision letter. This short, two page document is well worth reading if you plan to donate anything to any non-profit organization. I was unable to scan this document into a text file, but I found a copy of it on the Internet (it is not available at the IRS site for some reason). A copy of Publication 1771 is included with the copy of the decision letter linked above. To read it, click on this link.
The 501 (c)(3) application for recognition of exemption (forms 1023, 8718, and 872-C) was delivered to the IRS office in Kentucky at 9 a.m. December 28, 2001, according to the UPS Internet delivery tracking system.
The delivery was three days before the deadline (the end of the 15th month from the date of incorporation). That means donations to LFS back to the date of incorporation (Sept. 5, 2000) should be tax-deductible. I have one copy of the application and I have made two others so that LFS Secretary Lynn Hamblin and Treasurer Casey Woods can keep them on file. I will also keep a copy on file. By law, a copy of the application must be kept on file for public inspection for three years.
The application uses form 872-C to "consent fixing period of limitation upon assessment of tax under section 4890 of the Internal Revenue Code." The reason for including this form in the application is that it is required when seeking an "advance ruling" rather than a "definitive ruling" on our tax- exempt status. Rather than making an advance ruling, however, the IRS chose to make a final ruling, so that form was evidently not needed. Who knew?
More About the Group
Join, Donate to LFS
You can join LFS by sending $15 to the Laramie Film Society, along with a self-addressed stamped envelope to: The Laramie Film Society, 3019 Pope Springs Road, Laramie, WY, 82070. Donations to LFS can be sent to the same address. Donations are tax deductible.
Join the LFS E-Mail Lists
The best way to keep up with the group's activities is to join the LFS e-mail lists. To do this, visit https://groups.google.com/forum/#!forum/laramie-film-society-announcements and sign up. This is an announcement list only. Notices will include upcoming films, polls, meetings and other LFS announcements. There is no discussion among list participants. We expect an average of less than one announcement per week. You can also view all of the messages that have already been posted to the list at this location.

We also have a discussion list. You can subscribe to the discussion list by visiting this website http://groups.google.com/group/laramie-film-society-discussions?hl=en. As with most Google features, these sites work best when you are using a Google Chrome browser. If all else fails, e-mail Robert Roten (address at bottom of page) and ask him to send you invitations to either list.
Our Mailing Address
Laramie Film Society
3019 Pope Springs Road
Laramie, WY 82070
Web space for this site provided by LARIAT, Laramie's Community Internet service provider.
Photo of movie projector by Connor Mullen.
Web page design by Brett Glass and Robert Roten (E-mail at Robert's last name, dot lariat.net)