Laramie Film Society
film.laramie.wy.us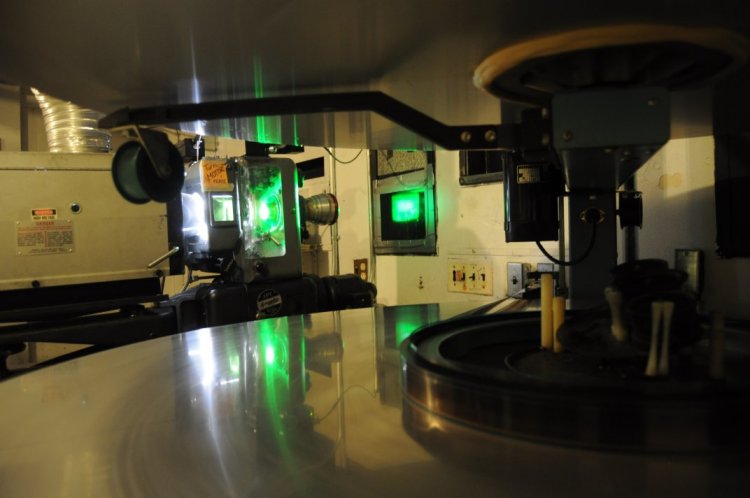 Promoting Cinema in Laramie, Wyoming
Sundries of the World Foreign Film Series
The Albany County Public Library's free winter-spring film series features 19 award winning foreign language films. All films will be shown on Sunday nights at 7 p.m. at the library, Eighth and Grand from January 8 through May 14, 2017. The films, which are open to the public, are all shown on a big screen with a surround sound system. Admission is free to all films, and so are the snacks. Here is the schedule:
January 8, 2017 — Chinese Puzzle (Casse-tête chinois - 2013 - France)
— A 40-year-old divorced father of two cannot cope with his children moving to New York with their mother, so he moves there to be close to them. Rated R, 157 minutes. Languages, French, English, Spanish, Chinese and Yiddish.
January 15 — Illégal (2010 - Belgium, Luxembourg, France)
— This intense drama follows a former Russian teacher living illegally in Belgium who is captured and is fighting against a brutal system trying to deport her. This film won seven international film awards including the SACD (Directors' Fortnight) Prize at the 2010 Cannes Film Festival. Rated PG-13, running time 90 minutes, languages, French, English and Russian.
January 22 — Son of Saul (Saul fia - 2015 - Hungary)
— In the horror of Auschwitz, a Jewish prisoner forced to burn the corpses of his own people finds moral purpose in a dangerous attempt to properly bury the body of a boy he takes to be his son. This film won many awards, including both the Oscar and Golden Globe awards for best foreign film. Rated R, running time 81 minutes. Languages: Hungarian, Yiddish, German, Russian, Polish, French, Greek, Slovak and Hebrew.
January 29 — Of Horses and Men (Hross í oss - 2013 - Iceland)
— Vignettes of life in a rural Icelandic community show the intertwined lives of humans and equines. This film won 19 film awards. Rated UK-15 (similar to PG-13), running time one hour and 47 minutes. Languages: Icelandic, Swedish, English, and Spanish.
February 5 — Victoria (2015 - Germany)
— A two hour, 20 minute thrill ride shot in one take, this story centers on a woman recruited to be a getaway driver for bank robbers. Winner of 17 international film awards. Movie content rating, 12 and older in Germany, running time 138 minutes. Languages: German, English, Spanish and Turkish.
February 12 — 4 Months, 3 Weeks and 2 Days (2007 - Romania and Belgium)
— In Communist Romania in 1987, a young girl seeks an abortion, which is illegal. Winner of 35 international film awards. Unrated, running time 113 minutes. Language: Romanian.
February 19 — Big Bad Wolves (2013 - Israel)
— This extremely dark comedy about two men illegally torturing a murder suspect in an attempt to get the truth out of him raises important moral issues. It contains graphic scenes of murder and torture. Winner of 16 international film awards, including the Fangoria Chainsaw Award. Unrated, running time 110 minutes. Languages: Hebrew, Arabic.
February 26 — The Dinner (I nostri ragazzi - 2014 - Italy)
— In this finely observed drama, a civilized dinner between brothers and their wives simmers with uncomfortable tension as they face the truth of their children's awful crime against a homeless man. Winner of seven international film awards. Unrated, running time 92 minutes. Language: Italian.
March 5 — Samsara (2011)
— Filmed over nearly five years in twenty-five countries on five continents, this is a visual feast with wonderful images, and some disturbing scenes, too. There is no spoken dialog in this film. Nominated for a number of awards and winner of the best documentary award at the Dublin Film Festival. Rated PG-13, running time 102 minutes.


3/12/17 You, the Living (Sweden)
3/19/17 Sin Nombre (Mexico)
3/26/17 The Death of Mr. Lazarescu (Romania)
4/2/17 City of God (Brazil)
4/9/17 Reprise (Norway)
4/16/17 Juan of the Dead (Cuba)
4/23/17 Of Horses and Men (Iceland)
4/30/17 Lebanon (Israel)
5/7/17 Schneider vs. Bax (Denmark)
5/14/17 Intouchables (France)

This film series is sponsored by the Albany County Public Library and co-sponsored by the Laramie Film Society.

To be notified by e-mail of upcoming Laramie Film Society Activities, including film series schedules, subscribe to the Laramie Film Society's e-mail announcement list at https://groups.google.com/forum/#!forum/laramie-film-society-announcements.
Wyo Theatre news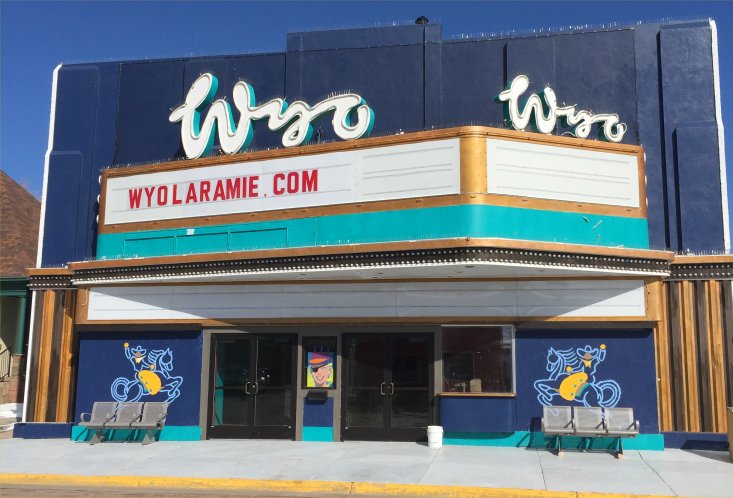 Laramie's historic Wyo Theatre, 309 S. Fifth St. in Laramie, is still closed, but there may be some films shown there in the future. The membership plan apparently fell short of the goal of 100 memberships. For more information, visit the Wyo Theatre's website: http://www.wyolaramie.com/.
LFS shows summer films outdoors
The Laramie Film Society presented "Easy Street," "The Goat" and "An Eastern Westerner" during Jubilee Days last year. These films were not shown this year for the first time in 16 years, due to an absence of volunteers. Thanks to the cooperation of Music Box building owner for letting LFS use its wall. Thanks to the Cross Country Connection for agreeing to letting us use electricity for the projector.
"Easy Street," released in 1917 is one of Charlie Chaplin's early comedy classics. This 19-minute Mutual studio silent film pits the diminutive Chaplin, who plays a policeman, against a huge street thug played by Eric Campbell. Chaplin also wrote and directed this film. Chaplin creates humor from the unlikely subjects of poverty and violence in some mean city streets.
"The Goat" is a classic 1921 comedy. It is about a man (played by the legendary Buster Keaton) who is mistakenly identified as a murderer in newspapers and posters. He desperately dodges the police, and a variety of other pursuers, displaying incredible acrobatic skills and ingenuity. This film was selected by the Motion Picture Academy of Arts and Sciences as one of Keaton's two best short films (the other was "The Boat"). Keaton, a legendary movie actor, writer and director, also co-directed and scripted this film with Malcolm St. Clair. Keaton (1895-1966) was one of the true comic geniuses of film, with a brilliant career that spanned decades. His acrobatic physical style of comedy is similar to that of Charlie Chaplain, Harold Lloyd and Jackie Chan.
"The Goat" is the first film purchased by the Laramie Film Society. "Easy Street" was purchased in the summer of 2004. In the past we have rented all of the films we have shown. By shopping around on the Internet, LFS found a source of 16 millimeter films for a reasonable price. We can buy a film for about the same amount of money it costs to rent one.
"An Eastern Westerner" is a 1920 film starring Harold Lloyd, one of the biggest stars of silent films. The print we bought in 2010 is essentially the second half of this 20-minute film (which is O.K., because it is the funnier half and we got it at half price). The first half of the film takes place in a large city, probably New York. The half of the movie we have takes place in a town in the west populated by bad guys and crooked card sharks. There is also a group of hooded riders who look a lot like the KKK, menacing people in the town. The nimble Lloyd outsmarts the bad guys and gets the girl, of course.
All Laramie Film Society events are sponsored by The Alibi Pub, Mizu Sushi restaurant and The Pedal House.
Report on the 501 (c)(3) status of LFS
The IRS has determined that the Laramie Film Society is exempt from federal income tax as described in section 501 (c)(3) of the tax code. The LFS received the determination letter in mid-February.
This is a final determination. Since we have a reasonable assurance that our application was filed before the deadline, all donations to LFS dating back to September 5, 2000 should be eligible for deduction from federal income taxes. Donations are only allowable as deductions to the extent that the donations are gifts. LFS memberships and LFS t-shirts, and LFS movie ticket sales are not really eligible because people receive consideration for those purchases.
The complete IRS determination letter can be accessed by clicking on this link. This determination letter has been scanned into text, so there may be some typos. E-mail me (Robert Roten) so I can fix any typos you might spot. My e-mail address can be found on my web page Laramie Movie Scope. A copy of IRS Publication 1771 which outlines the rules for charitable donations was included with the decision letter. This short, two page document is well worth reading if you plan to donate anything to any non-profit organization. I was unable to scan this document into a text file, but I found a copy of it on the Internet (it is not available at the IRS site for some reason). A copy of Publication 1771 is included with the copy of the decision letter linked above. To read it, click on this link.
The 501 (c)(3) application for recognition of exemption (forms 1023, 8718, and 872-C) was delivered to the IRS office in Kentucky at 9 a.m. December 28, 2001, according to the UPS Internet delivery tracking system.
The delivery was three days before the deadline (the end of the 15th month from the date of incorporation). That means donations to LFS back to the date of incorporation (Sept. 5, 2000) should be tax-deductible. I have one copy of the application and I have made two others so that LFS Secretary Lynn Hamblin and Treasurer Casey Woods can keep them on file. I will also keep a copy on file. By law, a copy of the application must be kept on file for public inspection for three years.
The application uses form 872-C to "consent fixing period of limitation upon assessment of tax under section 4890 of the Internal Revenue Code." The reason for including this form in the application is that it is required when seeking an "advance ruling" rather than a "definitive ruling" on our tax- exempt status. Rather than making an advance ruling, however, the IRS chose to make a final ruling, so that form was evidently not needed. Who knew?
More About the Group
Join, Donate to LFS
You can join LFS by sending $15 to the Laramie Film Society, along with a self-addressed stamped envelope to: The Laramie Film Society, 3019 Pope Springs Road, Laramie, WY, 82070. Donations to LFS can be sent to the same address. Donations are tax deductible.
Join the LFS E-Mail Lists
The best way to keep up with the group's activities is to join the LFS e-mail lists. To do this, visit https://groups.google.com/forum/#!forum/laramie-film-society-announcements and sign up. This is an announcement list only. Notices will include upcoming films, polls, meetings and other LFS announcements. There is no discussion among list participants. We expect an average of less than one announcement per week. You can also view all of the messages that have already been posted to the list at this location.

We also have a discussion list. You can subscribe to the discussion list by visiting this website http://groups.google.com/group/laramie-film-society-discussions?hl=en. As with most Google features, these sites work best when you are using a Google Chrome browser. If all else fails, e-mail Robert Roten (address at bottom of page) and ask him to send you invitations to either list.
Our Mailing Address
Laramie Film Society
3019 Pope Springs Road
Laramie, WY 82070
Web space for this site provided by LARIAT, Laramie's Community Internet service provider.
Photo of movie projector by Connor Mullen.
Web page design by Brett Glass and Robert Roten (E-mail at Robert's last name, dot lariat.net)