Laramie Film Society
film.laramie.wy.us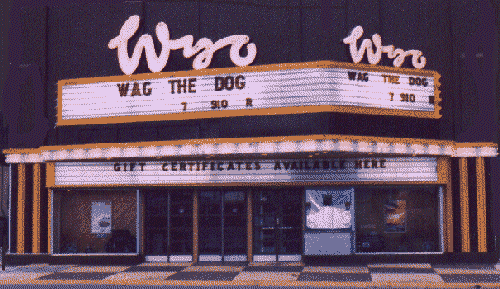 Promoting Cinema in Laramie, Wyoming
---
The free Sundries of the World: Foreign Film Series at the County Library
September 25, 2014 -- The Albany County Public Library and the Laramie Film Society are sponsoring a free "Sundries of the World: Foreign Film Series" to be shown at the library, featuring such films as "Kagemusha" and "La Dolce Vita." The series is free and open to the public. It runs from October 5 to December 7.
Film screenings are each Sunday night at 7 p.m. at the Albany County Public Library, Eighth St. and Grand Ave. Admission is free. There is no admission charge for these films and we provide free popcorn and pop. We do request donations to help pay for the public performance rights to show these films.
Following is the schedule for the film series. Each movie is given a quality rating and is linked to reviews. Four stars equals an A, three stars, B, two stars C, and so on. Below the schedule is a synopsis of each film and other information, including awards these films have won. This information is all from the Movie Review Query Engine site. An asterisk following the name of the film means the film is rated by means of an average of reviews of major critics at metacritic.com, or at the Movie Review Query Engine, or by other means. The titles are linked to the Movie Review Query Engine site (MRQE.com). Click on the link to find numerous reviews of each film.
October 5 -- The Spanish Apartment (L'auberge espagnole, 2002, France)*
October 12 -- La Dolce Vita (1960, Italy)*
October 19 -- 12:08 East of Bucharest (A fost sau n-a fost?, 2006, Romania)*
October 26 -- Ring (Ringu, 1998, Japan)*
November 2 -- The Girl on the Bridge (La fille sur le pont, 1999, France)*
November 9 -- Face to Face (Ansikte mot ansikte, 1976, Sweden)*
November 16 -- Oldboy (Oldeuboi, 2003, Korea)*
November 23 -- The Dreamers (2003, Italy)*
December 7 -- Kagemusha (1980, Japan)*

Synopses of series films
October 5 -- The Spanish Apartment (L'auberge espagnole, 2002):
Xavier (Romain Duris) is a French economics student nearing the completion of his degree and looking for work. Meeting with a member of the Ministry of Finance, he receives an offer -- he can give him a good job, but only under the condition that he learn to speak Spanish. Determined not to pass up the opportunity, Xavier enrolls in a language program in Barcelona. Upon his arrival, Xavier moves into a large shared apartment and finds that his ideas and attitudes are challenged in a positive way by the diverse personalities and lifestyles of his housemates., and that his loyalty to girlfriend back in France, Martine (Audrey Tautou), is tested by his attraction to Anne-Sophie (Judith Godrèche), a sweet and lonesome, but married, woman from France who has been away from her husband for too long. L'Auberge Espagnole received its world premier at the 2002 Cannes Film Festival, and went on to earn prizes at the 2002 Karlovy Vary International Film Festival, the 2003 Lumière Awards, and the 2003 César Awards. Spoken languages: French, Spanish, English, Catalan, Danish, German and Italian, R-rated, running time 122 minutes. Internet Movie Database (IMDB) user rating, 7.3 (out of 10).
October 12 -- La Dolce Vita (1960):
In one of the most widely seen and acclaimed European movies of the 1960s, Federico Fellini featured Marcello Mastrioanni as gossip columnist Marcello Rubini. Having left his dreary provincial existence behind, Marcello wanders through an ultra-modern, ultra-sophisticated, ultra-decadent Rome. He yearns to write seriously, but his inconsequential newspaper pieces bring in more money, and he's too lazy to argue with this setup. Throughout his adventures, Marcello's dreams, fantasies, and nightmares are mirrored by the hedonism around him. With a shrug, he concludes that, while his lifestyle is shallow and ultimately pointless, there's nothing he can do to change it and so he might as well enjoy it. A huge worldwide success, La Dolce Vita won several awards, including a New York Film Critics CIrcle award for Best Foreign Film and the Palme d'Or at the Cannes Film Festival. Running time 174 minutes. IMDB rating, 8.1/10.
October 19 -- 12:08 East of Bucharest (A fost sau n-a fost?, 2006):
It's the 22nd of December. Sixteen years have passed since the revolution, and in a small Romanian town Christmas is days away as three men come together to face History: Piscoci, an old retired man is preparing for another Christmas alone, Manescu, the history teacher, who tries to keep up with his debts, and Jderescu, the owner of a local television post. Jderescu, along with Manescu and Piscoci, is trying to answer for himself a question which for 16 years has not had an answer: "Was it or wasn't it a revolution in their town?" 12:08 East of Bucharest was a surprise hit across Europe, where it was nominated and won several awards, including Best Screenplay and Best Film at the Copenhagen International Film Festival in 2006. In Romanian, with English subtitles. Running time 89 minutes. IMDB rating, 7.4/10.
October 26 -- Ring (Ringu, 1998):
In this psychological horror story from Japan, a legend circulates among teenagers that if one watches a certain video at a certain time of the night, the telephone will ring, and one week later, you will die. When Masami (Hitomi Sato) tells her friend Imako this story, she scoffs -- but a week later, Imako dies in an auto accident. Imako's aunt, a television journalist named Reiko (Nanako Matsushima), hears that not long before she died, Imako was watching a strange video with her friends -- all of whom have turned up dead. Reiko tracks down a copy of the video, and as she watches its strange, spectral images, the telephone begins to ring... The next morning, Reiko begins a desperate search to solve the mystery of the video, convinced she has only seven days to live; assisting her is Ryuji (Hiroyuki Sanada), a mathematics expert and her former husband. Ringu was a box-office success in its native Japan, and a surprise blockbuster in Hong Kong, where it became the biggest grossing film of the first half of 1999. In Japanese with English subtitles, running time, 96 minutes.IMDB rating, 7.3/10.
November 2 -- The Girl on the Bridge (La fille sur le pont, 1999):
A woman's long history of bad luck starts to change when she puts her life on the line in this romantic drama. Adèle (Vanessa Paradis) is a 22-year-old woman whose life seems to have been a long series of miscalculations; she's never had much luck with love, life, or career, and is standing on a bridge overlooking the Seine one night, contemplating suicide, when she's approached by a man named Gabor (Daniel Auteuil). Gabor demonstrates that he's a knife-thrower who needs a new target for his act, and he knows shes the one. Soon they are on their way to Monaco, where Gabor gets a spot at a circus. Adèle and Gabor make a great team; he's good with knives, she's young and beautiful, and suddenly Adèle's luck starts to change. However, an obvious chemistry is brewing between the two, which leads to a dilemma: Gabor has a strict policy of never getting romantically involved with his partners. Will he make an exception, or is Adèle's new run of luck coming to an end? Spoken languages, French, Italian and Greek with English subtitles. Rated R, running time 90 minutes. IMDB rating, 7.6/10.
November 9 -- Face to Face (Ansikte mot ansikte, 1976):
Liv Ullmann plays Dr. Jenny Isakson, a psychiatrist who is taking a vacation while her husband Dr. Erik Isakson (Sven Lindberg) is elsewhere. Haunted by visions of an old woman, Jenny suffers from profound, inexplicable depression. Desperately in search of a escape from her doldrums, she has an affair with married doctor Tomas Jacobi (Erland Josephson). This only serves to spark an attack of hysteria for Jenny. Again visited by hallucinations of the old woman, she attempts suicide. While hovering between life and death, she imagines she sees all the people who've been influential in her life, and rails against them for causing her neuroses. Only while recovering does she learn who the spectral old woman is and why she is undergoing so harrowing an emotional experience. In Swedish with English subtitles, rated R, running time 114 minutes. IMDB rating, 7.6/10.
November 16 -- Oldboy (Oldeuboi, 2003):
South Korean filmmaker Park Chan-wook directed this violent and offbeat story of punishment and vengeance. Oh Dae-su (Choi Min-sik) is a husband and father whose reputation for womanizing is well known. One day, for reasons he doesn't understand, Oh Dae-su finds himself locked up in a prison cell, with no idea of what his crime was or whom his jailers may be. Oh Dae-su struggles to keep his mind and body intact, but when he learns through a news report that his wife has been killed, he begins a long and difficult project of digging an escape tunnel with a pair of chopsticks. Before he can finish -- and after 15 years behind bars -- Oh Dae-su is released, with as little explanation as when he was locked up. Emotionally stunted but physically strong after 15 years in jail, Oh Dae-su struggles to unravel the secret of who is responsible for locking him up and how to best get revenge against his captors. Oldeuboi was screened in competition at the 2004 Cannes Film Festival and won the coveted Grand Prix. In Korean with English subtitles, rated R, running time 120 minutes. IMDB rating, 8.4/10.
November 23 -- The Dreamers (2003):
Veteran Italian filmmaker Bernardo Bertolucci directs the erotic drama The Dreamers, adapted from the novel The Holy Innocents: A Romance by Gilbert Adair. American student Matthew (Michael Pitt) is studying in Paris during the politically turbulent late '60s. The story begins in 1968 with the firing of Henri Langlois, the founder of the French Cinematique. At a protest demonstration, Matthew meets cinema-obsessed Isabelle (Eva Green) and her twin brother, Theo (Louis Garrel). When their Bohemian parents (Robin Renucci and Anna Chancellor) leave for the summer, the twins invite Matthew to live with them. While the revolution rages on outside, the three young people stay in the comfortable flat filling their time with hedonistic games and discussions of film. Bertolucci incorporates clips from classic films like Queen Christina, Band of Outsiders, and Breathless. After showing at several European film festivals, The Dreamers made its U.S. premiere at the Sundance Film Festival in 2004. Spoken languages, French and English, with English subtitles. Rated NC-17, running time 115 minutes. IMDB rating, 7.2/10.
December 7 -- Kagemusha (1980):
Akira Kurosawa, in order to film Kagemusha, won the financial support of longtime admirers Francis Ford Coppola and George Lucas. The film is set in the 16th century, when powerful warlords competed for control of Japan. It offers examinations of the nature of political power and the transience of identity. For some time, Warlord, Shingen Takeda has been able to stay removed from the heat of battle by using his brother Nobukado Tsutomu Yamazaki as a double. Nobukado offers another option when he discovers a condemned thief bearing an uncanny resemblance to the warlord. After he insists on witnessing the fall of an enemy in person, Shingen falls victim to a sniper's bullet, forcing his advisers to present the thief as the fallen warrior. At first awkward in his new position and plagued by dreams in which the spirit of his double confronts him, he slowly grows into the role even as his enemies begin to advance on his kingdom. Kagemusha: The Shadow Warrior, was the winner of the Palm D'Or at The Cannes Film Festival. In Japanese with English subtitles, running time 162 minutes. IMDB rating, 8.0/10.
To be notified by e-mail of upcoming films in the series, or changes in the film series schedule, subscribe to the Laramie Film Society's e-mail announcement list at https://groups.google.com/forum/#!forum/laramie-film-society-announcements.
---
LFS shows summer films outdoors
Despite a downpour, the Laramie Film Society presented "Easy Street," "The Goat" and "An Eastern Westerner" during Jubilee Days. The films were shown on July 11 during the Jubilee Days Street Dance on the north wall of Ken's Music Box near the intersection of Second and Grand. Thanks to the Music Box for letting LFS use its wall. Thanks to the Cross Country Connection for letting us use electricity so LFS could plug in its projector. Thanks to the LFS volunteer Glenn McLellan who helped us get set up and help carry everything away afterwards.
"Easy Street," released in 1917 is one of Charlie Chaplin's early comedy classics. This 19-minute Mutual studio silent film pits the diminutive Chaplin, who plays a policeman, against a huge street thug played by Eric Campbell. Chaplin also wrote and directed this film. Chaplin creates humor from the unlikely subjects of poverty and violence in some mean city streets.
"The Goat" is a classic 1921 comedy. It is about a man (played by the legendary Buster Keaton) who is mistakenly identified as a murderer in newspapers and posters. He desperately dodges the police, and a variety of other pursuers, displaying incredible acrobatic skills and ingenuity. This film was selected by the Motion Picture Academy of Arts and Sciences as one of Keaton's two best short films (the other was "The Boat"). Keaton, a legendary movie actor, writer and director, also co-directed and scripted this film with Malcolm St. Clair. Keaton (1895-1966) was one of the true comic geniuses of film, with a brilliant career that spanned decades. His acrobatic physical style of comedy is similar to that of Charlie Chaplain, Harold Lloyd and Jackie Chan.
"The Goat" is the first film purchased by the Laramie Film Society. "Easy Street" was purchased in the summer of 2004. In the past we have rented all of the films we have shown. By shopping around on the Internet, LFS found a source of 16 millimeter films for a reasonable price. We can buy a film for about the same amount of money it costs to rent one.
"An Eastern Westerner" is a 1920 film starring Harold Lloyd, one of the biggest stars of silent films. The print we bought in 2010 is essentially the second half of this 20-minute film (which is O.K., because it is the funnier half and we got it at half price). The first half of the film takes place in a large city, probably New York. The half of the movie we have takes place in a town in the west populated by bad guys and crooked card sharks. There is also a group of hooded riders who look a lot like the KKK, menacing people in the town. The nimble Lloyd outsmarts the bad guys and gets the girl, of course.
---
LFS screens films for seniors
The Laramie Film Society holds free silent film showings at the Eppson Centers for Seniors occasionally. One such showing was "The Goat" on August 6, 2007 at 5:30 p.m. at the Center. The showing was a big success. The audience of mostly seniors enjoyed the show. About 30 people attended the showing.
"The Goat," a 25-minute silent film starring Buster Keaton, was originally shown in downtown Laramie during the Jubilee Days Street Dance. "The Goat" is a 1921 comedy about a man (played by Buster Keaton) who is mistakenly identified as a murderer in newspapers and posters. He desperately dodges the police, and a variety of other pursuers, displaying incredible acrobatic skills and ingenuity. The LFS has also shown "Easy Street," starring Charlie Chaplin, at the senior center. Send me an email if you want to set up a showing of either of these films or "An Eastern Westerner," our other silent film, starring the legendary Harold Lloyd.
---
Report on the 501 (c)(3) status of LFS
The IRS has determined that the Laramie Film Society is exempt from federal income tax as described in section 501 (c)(3) of the tax code. The LFS received the determination letter in mid-February.
This is a final determination. Since we have a reasonable assurance that our application was filed before the deadline, all donations to LFS dating back to September 5, 2000 should be eligible for deduction from federal income taxes. Donations are only allowable as deductions to the extent that the donations are gifts. LFS memberships and LFS t-shirts, and LFS movie ticket sales are not really eligible because people receive consideration for those purchases.
The complete IRS determination letter can be accessed by clicking on this link. This determination letter has been scanned into text, so there may be some typos. E-mail me (Robert Roten) so I can fix any typos you might spot. My e-mail address can be found on my web page Laramie Movie Scope. A copy of IRS Publication 1771 which outlines the rules for charitable donations was included with the decision letter. This short, two page document is well worth reading if you plan to donate anything to any non-profit organization. I was unable to scan this document into a text file, but I found a copy of it on the Internet (it is not available at the IRS site for some reason). A copy of Publication 1771 is included with the copy of the decision letter linked above. To read it, click on this link.
The 501 (c)(3) application for recognition of exemption (forms 1023, 8718, and 872-C) was delivered to the IRS office in Kentucky at 9 a.m. December 28, 2001, according to the UPS Internet delivery tracking system.
The delivery was three days before the deadline (the end of the 15th month from the date of incorporation). That means donations to LFS back to the date of incorporation (Sept. 5, 2000) should be tax-deductible. I have one copy of the application and I have made two others so that LFS Secretary Lynn Hamblin and Treasurer Casey Woods can keep them on file. I will also keep a copy on file. By law, a copy of the application must be kept on file for public inspection for three years.
The application uses form 872-C to "consent fixing period of limitation upon assessment of tax under section 4890 of the Internal Revenue Code." The reason for including this form in the application is that it is required when seeking an "advance ruling" rather than a "definitive ruling" on our tax- exempt status. Rather than making an advance ruling, however, the IRS chose to make a final ruling, so that form was evidently not needed. Who knew?
---
History of the Laramie Film Society
The Laramie Film Society was established as a Wyoming not-for-profit corporation in September of 2000 after the Wyo closed. It held its first general meeting and appointed a Board of Directors, with well-known Laramie film critic and writer Robert Roten as Chairman. The LFS was formed both to preserve the theater and to promote the appreciation of cinema in general in Laramie. While the LFS is in no way connected to the current group managing the Wyo Theatre, the LFS is very interested in making sure the theater stays open.
January 26, 2001 was a busy day. The Wyo Theatre reopened that day (featuring "Charlie's Angels," "Unbreakable" and "102 Dalmatians"), and the Laramie Film Society showed "All About My Mother" (Todo Sobre Mi Madre) at the Laramie Plains Civic Center that same evening. We talked this over with Randy Pryde, a partner of the company leasing the Wyo. He indicated the theater's opening was a little uncertain at that time (more on the Wyo below), so we decided to go ahead with our movie as planned. The LFS movie, the Laramie premier of "All About My Mother," winner of the 1999 Academy Award for best foreign film, was a big success. LFS, with the help of four sponsoring organizations attracted 150 people, five times the turnout of our previous feature, "A Christmas Story." We probably outdrew "Charlie's Angels." LFS feels the success of this show, despite the competition from seven other movies at the Fox and Wyo, and despite the fact that our movie was already out on video, vindicates our belief that there is a strong market for high quality films in Laramie.
LFS showed "A Christmas Story" at the civic center theater on December 15. The December showing was the first featuring a sound system donated by Dr. Charles Ksir, dean of the UW College of Education. It was also the first LFS film shown at the Civic Center. The sound system worked well, being a vast improvement over our previous sound equipment, but it was generally felt there was too much "boom" in the sound reproduction. LFS technicians reduced the bass and boosted the treble for "All About My Mother." "A Christmas Story," also has a number of lines of dialogue spoken by Darren McGavin which are intentionally garbled to indicate he is swearing.
LFS used a rented projector (which did not work well) in its first film and a borrowed projector (which worked very well) for second film. Now LFS owns three Bell and Howell 16 millimeter projectors. Two of the higher quality projectors will be used for showing the films and the third is a backup unit in case of a projector breakdown. New, these projectors cost over $1,000, but most have been devalued because of the popularity of digital video projectors. LFS purchased two newer Bell and Howell 2585 projectors for about $80 apiece from Ebay. During the showing of "All About My Mother" a projector bulb burned out. Projectionist Casey Wood (also a board member) quickly switched projectors, using our spare, and the show went on. The only thing that slowed us down was the burned out bulb. It was so hot we had to let it cool a bit before we could replace the bulb. LFS later purchased a number of spare projector bulbs.
"Duck Soup" and "A Christmas Story" were rented from Swank Motion Pictures for about $125 apiece, not counting shipping. "Duck Soup" was shown at our first fundraising event, "Soup and Cinema," held Dec. 3, 2000, from 4-7 p.m. at the Alice Hardie Stevens Center. "All About My Mother" cost $400 (from a different distributor) plus $40 for shipping and handling, so we found some sponsors to cover part of the costs. LFS also raised the admission price $1.50 for this film, to cover a portion of the higher costs. We also paid $50 for renting the Civic Center Theater for two hours, so our total costs for showing this film was about $500 (all labor is volunteer), versus about $200 for our first two films. We lost money on "A Christmas Story" due to a low turnout. That was partly due to the fact that "A Christmas Story" is shown a lot on television, there was a snow storm that evening, and the Laramie Daily Boomerang failed to run an advertisement for the movie that day LFS had contracted for.
Since "All About My Mother" was about three times as expensive as the previous LFS film (which we lost money on), we sought sponsors to help us offset the high cost of the film. We'd like to thank the sponsors of "All About My Mother." Sponsors included The Unitarian-Universalist Fellowship, custodian of the Matthew Shepard Fund; La Radio Montañesa: Voz de la Gente; University of Wyoming Women's Center, and the University of Wyoming Office of Multicultural Affairs (Hispanic Programs).
The Laramie Film Society coasted along for 10 years after the Wyo Theatre reopened, promoting the annual spring and fall film series. Laramie Film Society members Robert Roten, Nancy Sindelar (who also heads of the Wyoming Peace, Justice and Earth Center) and Lynn Hamlin, started a summer film series at the Albany County Public Library in 2007, which has continued to the present. Donations from this group, and donations by attendees at the film series have helped to pay for major upgrades in the library's audio-visual systems.
The owners of the Wyo Theatre discontinued the fall film series in 2011 due to a lack of attendance. LFS offered to sell advance tickets for the next film series in an attempt to revive it. The owners (Rocky Mountain Resort Cinemas) agreed to revive the annual film series if we could sell 500 tickets in advance. LFS sold 1,300 advance tickets for the 2011 spring film series. With this kind of community support, and LFS selling advance tickets, the annual fall and spring film series have continued at the Wyo Theatre.
---
History of the Wyo Theatre
The Wyo Theatre was built around 1928 according to business listings in the Polk City, County and State directories from that period. The theater, at 309 S. Fifth St. in Laramie, was originally named the Crown Theater. It is one of the oldest continuously operating movie theaters in Wyoming.
J.G. Burbank, the former manager of the old Empress Theater (it was later renamed the Fox Theater) on 112 South Second Street (that building was recently demolished) was listed as the original owner of the new Crown Theater. He owned the theater for many years. In 1950, the name of the theater was changed from the Crown Theater to the Wyo Theatre , according to the web site Cinema Treasures.
When the name of the theater was changed to the Wyo, the exterior of the theater was remodeled. Architect Charles D. Strong drew up the plans for the remodel, giving the building an Art Deco look, according to Cinema Treasures.
The Burbank estate sold the theater to Carmike Cinemas, one of the largest theater chains in the country, in 1996. It was later sold to Trans-Lux Corporation. Rocky Mountain Resort Cinemas purchased the theater in 1999 and still owns the property.
The theater operated as a first-run theater for over 70 years showing new films from Hollywood. It was common practice for years in Laramie for movie theaters to show new films weeks or months after they had opened in larger cities. Film rental costs are lower after a film has been in release for a few weeks. That practice changed over time as mass marketing of movies on television made it more profitable to open movies simultaneously all over the country, including in smaller cities like Laramie.
The theater last showed first run films in 1999. The interior of the theater was remodeled that year by the Trans-Lux Corporation especially for the Laramie premiere of the blockbuster film, "Star Wars Episode One: The Phantom Menace." At that time, the Laramie Boomerang reported that "The theater is now equipped with new, larger, more comfortable seats, a new Dolby® four-channel digital sound system, a brighter projector light, a new screen, new draperies and new carpeting, among other improvements. The sound system has speakers on all four sides of the auditorium, with 13 12-inch speakers behind the screen, along with some 16-inch sub-woofers for a visceral bass sound quality."
After 1999, the Wyo became a "mid-run" theater, opening films months after those films opened in larger cities, while the competing multiplex Fox Theater in Laramie remained a first-run theater, opening films on the same day they opened in larger cities around the country. Often, the Wyo runs the same movies that had previously been shown at the Fox. The Wyo attracts families with its lower ticket and concession prices.
The Wyo also offers films not shown elsewhere in Laramie, independent, documentary, foreign and "art" films, which are shown on Sundays during annual spring and fall film series. It also has a low-cost matinee film series for children in the summer.
Since 1989, the Wyo has shown over 450 independent, art and foreign films, such as "Billy Elliot," "Chocolat," "Love Actually," "An Inconvenient Truth" and "La Vie En Rose." These are the kinds of films that most theaters don't bother to show. Often, they are not shown because these kinds of films are not widely distributed and there is no major marketing campaign to support them.
Over the years, the theater was leased by a number of different movie theater companies, including Mann Theaters, the Commonwealth Theater Group, Carmike Cinemas, Trans-Lux Cinemas and finally Movie Palaces, Inc. and the Bijou Inc. partnership of Casper Wyoming.
The theater closed briefly in 2000 after Trans-Lux gave up its lease on the theater. Later, Movie Palaces and Bijou stopped using the theater on May 18, 2001. Rocky Mountain Resort Cinemas (RMRC) bought all the equipment purchased for the Wyo by Bijou-Movie Palaces, and assumed full management of the theater. RMRC continues to own and run the theater now.
The movie theater business model changed in the late 20th century to favor multiplex theaters over single screen theaters like the Wyo. One of the factors in the change was the end of dual projector systems, which required constant operator attention to change film reels, start and stop projectors and thread film through the projectors during the movie.
These dual projector systems were replaced by a single projector system in which all the reels of film were spliced together at the theater, then broken apart again for shipment. The complete film was wound onto a large horizontal rotating platter, about four feet in diameter. The film was drawn off the platter, run through the projector and then fed back onto the platter again. This system required little attention once the film was started. With this system, a single projectionist could run a number of movies simultaneously at a multiplex theater, resulting in reduced labor costs for projection.
With this technical innovation, multiplexes became more profitable than single-screen theaters. Multiple movies could be shown at a single location while labor costs for projection, ticket sales and concessions could be consolidated for cost savings. The old projection worker unions were broken and wages were cut to a minimum. With the advent of digital projection systems, labor costs were cut even more.
Television advertising became the preferred method for advertising films. Years ago, local theaters promoted their films with large newspaper advertisements. Now that national television advertising campaigns dominate the movie business, local newspaper advertising for movies has virtually disappeared. That means local theaters have lost any independence they once had. They usually show movies that are supported by a lot of advertising, regardless of the quality of the movie.
All these changes have left the Wyo Theatre with the biggest screen in Laramie, at over 30 feet wide. Laramie's other movie theater, the Fox, was originally a large single-screen theater, but has been remodeled over the years into a multiplex with a six smaller screens in relatively small auditoriums. The Wyo Theatre is over 6,200 square feet in size with 325 seats. It has, by far, the biggest screen and the most seating capacity for a single show in Laramie.
The Wyo Theatre also has the look of an older theater with art-deco trimmings on the outside of the building and murals of cowboys on the inside. The sidewalk in front of the theater is painted yellow and brown, the colors of the University of Wyoming sports teams. The name Wyo Theatre is shared with another theater in Wyoming. Sheridan also has a Wyo Theater. According to the web site Cinema Treasures, there once was a Wyo Theatre in Cheyenne at 1612 Carey Avenue.
Although the Wyo Theatre has a long history in Wyoming, it's future appeared to be very uncertain until this year. The owners of the Wyo Theatre, Rocky Mountain Resort Cinemas. Because of the age of the theater and its obsolete projection equipment, it was feared the theater might close. But the owners put in a digital projection system which greatly improved the picture and sound quality. Then a new, local owner, WyoLaramie LLC, stepped in to take over the theater with plans to fix up the building and make the theater better than ever.
The theater is currently closed for repair and renovation. It should reopen this summer For more about the new owner's plans for the Wyo Theatre, see the Wyo Theatre's Web Site. We wish the new owner success and we hope do our part to help make the theater successful in the future.
---
More About the Group
W. Dale Nelson wrote a wonderful article about the Laramie Film Society and its first organizational meeting for the Casper Star-Tribune. The article is reproduced with the author's permission here on our Web site.
Join, Donate to LFS
You can join LFS by sending $15 to the Laramie Film Society, along with a self-addressed stamped envelope to: The Laramie Film Society, 3019 Pope Springs Road, Laramie, WY, 82070. Donations to LFS can be sent to the same address. Donations are tax deductible.
Join the LFS E-Mail Lists
The best way to keep up with the group's activities is to join the LFS e-mail lists. To do this, visit https://groups.google.com/forum/#!forum/laramie-film-society-announcements and sign up. This is an announcement list only. Notices will include upcoming films, polls, meetings and other LFS announcements. There is no discussion among list participants. We expect an average of less than one announcement per week. You can also view all of the messages that have already been posted to the list at this location.

We also have a discussion list. You can subscribe to the discussion list by visiting this website http://groups.google.com/group/laramie-film-society-discussions?hl=en. As with most Google features, these sites work best when you are using a Google Chrome browser. If all else fails, e-mail Robert Roten (address at bottom of page) and ask him to send you invitations to either list.
Our Mailing Address
Laramie Film Society
3019 Pope Springs Road
Laramie, WY 82070
---
Web space for this site provided by LARIAT, Laramie's Community Network and Internet Users' Group.
Web page design by Brett Glass. Photo of the Wyo Theater by Robert Roten (E-mail at
)
---